Before you go and ride your ATV or Side By Side, there are a few must have ATV accessories you need to get.
Some of this gear can save your life, make your life easier or simply something everyone should own. So let's dig into some of the coolest and most essential 4-wheeler accessories.
1. ATV Helmet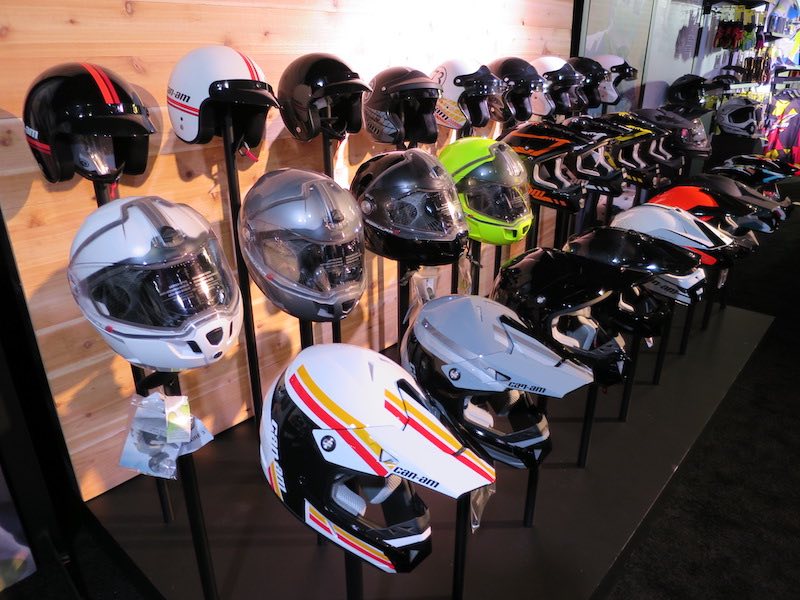 An ATV Helmet can save your life; you never know what can happen, so it's better to be prepared. This is why it's our first item on the list.
I'm a fan of the O'Neal Unisex-Adult Off Road 2SERIES Helmet*, make sure to get one that fits your head correctly. Helmet size is especially important for youth helmets and is a no-brainer to have.
2. ATV Winch
Half the fun of having an ATV is getting stuck!
Having a good winch is what you need to get un-stuck.
I know everything has its fanbase, and most people say to go with Warn Winches, but I've had good luck with other brands. The trick is making sure all connections are tight and putting the proper covers over the electrical components. And when you're cleaning up, make sure to remove the clumps of mud and vegetation that gets stuck around them too.
Don't forget to get the mounting bracket that many manufacturers don't include and often don't tell you about when getting a winch.
Here lately I've been a fan of the Superwinch Terra 35*. I used to be a diehard Warn fan but Superwinch has been winning me over.
3. ATV Storage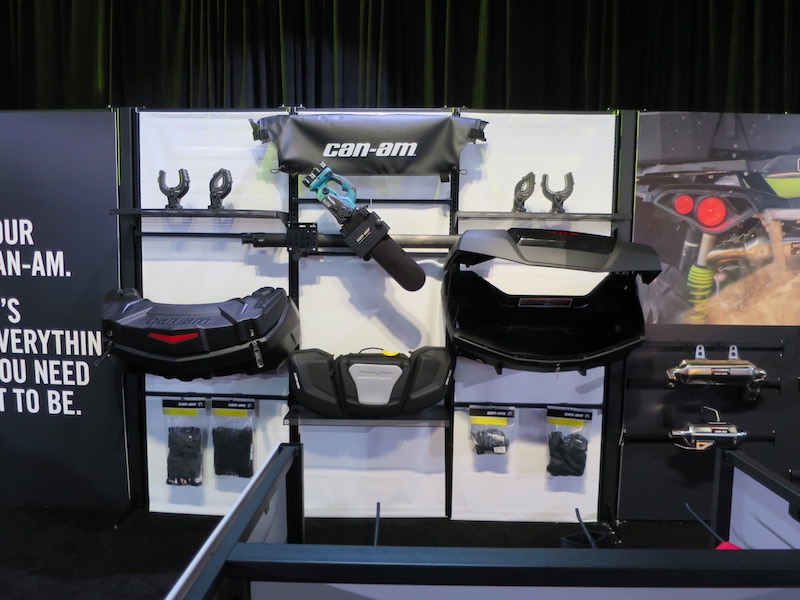 The manufacturers are listening and giving us more storage on ATVs, but it's still not enough.
No matter the ATV, I like having a rear storage box to help carry many of the things on this must-have ATV accessories list.
If you can, get a box that is at least dustproof or waterproof, if you can't it's no big deal, Zip-Lock bags work fine and are cheap.
4. First Aid Kit
I'm surprised first aid kits are not talked about much for when it comes to ATV accessories.
It make sense to carry one, I've had to use mine several times from stupid mistakes like cutting my hand when I got to close to a tree branch. What is interesting to me is that I'm not using the first aid kit the most but the other people I ride with are always getting hurt.
5. Utility Blade
The unsung hero of all the ATV accessories you need to carry, the Utility Blade, is a must.
Just last week, my buddy was messing around and got a vine somehow wrapped up in his ATV (don't ask me how he's just good like that). Having a Utility Blade to cut him free is a must for times like this.
6. Cooler
You should never drink and drive on your ATV!
But if you park after a long ride and umm… want to eat something, then you'll need a cooler.
For real, though, some of the best experiences I've ever had were on my ATV with friends and stopping at the most beautiful places to grab lunch. I have even been to a few fishing spots with my ATV, and the cooler came in super handy.
7. ATV Riding Gloves
A good set of ATV Gloves are a must. Here are a few reasons why you need gloves…
You'll have a tight grip when riding and blisters will soon follow. Nothing worse then blisters on your hands.
You'll be pushing brush, sticks, and other crap out of the way when riding.
If you're messing with the winch cable and it has a loose strand it can cut you. I've learned this one too many times.
If it's cold out the gloves can keep your hands warm.
If you're riding in the mud the gloves can give you better grip on the handlebars of your ATV.
8. ATV Goggles
You're going to get dirty, and the last thing you need is that dirt getting in your eyes.
There will be dust and other debris getting in your face, and if you can't see that is not safe. Pick yourself up some goggles like this here*; your eyes will thank you.
9. Dust Mask
Speaking of dust, it can get in your nose or mouth and make it hard to breathe.
Getting a dust mask can help block this dust from your face.
This is more of an issue for dustier and sandy areas but a good thing to have in the box of your ATV.
10. Dry Box
A dry box is for sure on the list of must-have ATV accessories for how useful they are.
Dust and water are just a fact of life when it comes to ATVs and Side By Sides. But there are a few things that you don't want to get dirty or wet, stuff like your phone or car keys.
With a Dry Box, you can keep your stuff safe even if your ATV storage is not so dry. Also, if the manufacturer says the storage on your ATV is dry, I would not trust it. Get yourself a dry box, so you know it's dry and safe.
I'm a fan of the Plano Guide Series 3600 Size Polycarbonate Field Box*.
11. Tire Inflator
I like the idea of having a simple 12-volt tire inflator on me when I go ride.
As I've covered before on why your ATV tire goes flat, this seems to be a fact of life. People don't always ride their ATVs enough, and the tires go flat over time.
This gets to be super annoying if you go on a trip with friends who get there and seem to have forgotten to put air in their tires. Or many of them don't even check their tires before they leave and see that they have no air pressure even though the tire "looked fine."
These little tire inflators are not fast, but it's better than not having one.
I like using the small portable ones because they don't take up that much space and has saved me a couple of times. Of the ATV accessories, this is one of the low-key ones that really shine when you need it.
12. Low-Pressure ATV Tire Gauge
Speaking of tires going flat, many people don't even use the correct tire gauge.
They'll pull out their car tire gauge, which is way too high for an ATV tire.
Most of your ATV tires need 5 to 7 psi in them, and most car tire gauges don't start till 15 psi.
Get yourself a low-pressure tire gauge like this one here* and keep it on your ATV all the time.
13. ATV Towing Strap
There will be times you or someone you ride with will get stuck.
There will also be times when a winch won't do because there are no trees nearby or it fails.
For times like this, it doesn't hurt to have a good tow strap like the RHINO USA Recovery Tow Strap 3″ x 20ft*.
The key with tow straps is once it's starting to fray you replace it. The reason is that you only need a tow strap in cases where everything else won't work. Don't cheap out on it either and don't use the wrong kind of strap either. By wrong strap, I mean, don't use the ratchet strap that is used to hold your ATV down when transporting it. I've almost lost an eye from using the wrong strap when it broke and flew past my face.
14. ATV Loading Ramps
If you're hauling your ATV in the back of your truck, you'll need ramps to get it in and out.
You'll also need a strap to keep the ramps from sliding out from under you. Not only have I seen this happen, but it's happened to me, and it doesn't feel good. Every time you use the ramps, you always strap them down to a secure location before moving the ATV.
Video How-To Guide Here.
Tip: Look for a ditch to back your truck into. This gives a less steep drop when getting the ATV off the back of the truck.
15. Tools
I'm not saying to carry a huge toolbox with you, but some basic tools are helpful.
If you can have an 8mm, 10mm, and 13mm wrench and sockets, then you can do a lot with that.
I can't tell you how many times I rode with someone and the ATV was having issues starting, and all it was is the 10mm screw on the battery or starter relay.
16. ATV Battery Charger
If you're not going to ride your ATV or side by side for a few weeks, then you'll need to keep the battery on charge.
A battery charger is, for sure, a must-have ATV accessory!
ATV batteries are small and die far more easily than the ones for your truck. To keep this from happening, you need to keep them on charge.
If you don't have power where you keep your ATV, you can use a solar charger like this one here*. The main thing is to use a solar battery charger that is under 5 watts and keep the panel somewhere that the Sun can shine on it.
If you do have power where you keep your ATV, then use a smart battery charger like this one*. You need a battery charger that will turn on and off as needed, overcharging the battery is bad.
No matter what you do, it's best to keep the battery on charge when you're not using the ATV for more than a month. Unplugging the battery won't work because it's the lack of being used that is the problem. Something keeping the battery active like with a solar charger or battery charger is what keeps the battery going for years.
If you need to see how long an ATV battery lasts, you can see my post on it here.
17. ATV Sound System
I feel like I've seen it all when it comes to people tricking out their ATVs with speakers.
If you're going to have speakers on your ATV, make sure to do it right. You need the speakers and systems made for ATVs like the Boss Audio Systems ATV30BRGB ATV UTV Sound System*.
18. Water Bottle
Not entirely an ATV accessory but still a must-have for anyone.
You're going to sweat, and you'll need water to keep you hydrated. It's easy to forget if it's your first time, even if it seems obvious.
A good aluminum water bottle is a must.
19. Rags or Towels
From checking the oil to holding pressure on a wound, don't forget to bring a towel!
If you get soaking wet from a mud pit, it's nice to wipe off your face with a clean towel. This is where it's handy to buy the big zip lock bags or keep a bunch of shop towels ready.
Just like the knife, having a rag is one of the must-have ATV accessories that most people forget about but is also the most helpful when you need it.
20. ATV Heated Grips
It gets cold sometimes and having heated grips* is huge for an ATV.
Plus, they're not that hard to install, and most ATVs you get these days make it plug & play.
Even if you ride with gloves on your fingers can get really numb from the cold. Plus, many of the heated grips you get these days know you'll be wearing gloves and can get real toasty through the gloves!
21. ATV Mirrors
I wish mirrors were more standard on ATVs. If you don't like it, you can remove it, but I feel more people will love to have them.
When you have a helmet on, it can be hard to keep looking behind you, especially if you're riding in a group. With an ATV mirror, you can keep a better eye on your surroundings.
22. ATV Gear Grip
With Gear Grips*, you can hold anything that is long like a shovel or ax.
These grips get the items away from you, and under control, so you don't lose them. Super helpful ATV accessory to have mainly if you use your ATV on the farm.
23. ATV Plow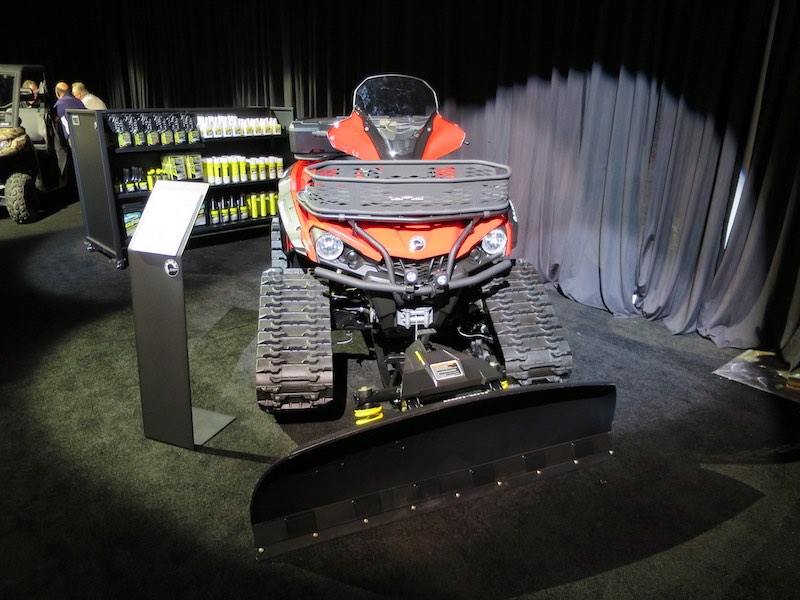 Okay, I'll admit a plow is not something every ATV owner should have.
But the few people who do need them, REALLY need them.
I have a post more about ATV plows here.
24. ATV Throttle Extension
No one ever talks much about how your thumb starts to hurt after an hour of riding.
The thumb throttles that are on every ATV do get annoying to hold on to and really can give your thumb a workout. I know it sounds silly, but if you do any serious riding the thumb gains are real!
You can get a throttle extension here*. They make the throttle longer and easier to use. They're also super easy to install too. Making it one of the must-have ATV accessories for anyone who does long rides.
25. ATV Ball And Hitch
Not for everyone, but if you use your ATV for work, then you need to put a ball on it.
It's so much easier to use an ATV to move a trailer. I do this often with a small jet ski trailer I have as the ATV can get into spots the truck can not.
Also super awesome for hauling trailers for the job site or around the farm.
You must follow the loading restrictions of your ATV. I've learned this from experience; the heavier the back end of the ATV due to the trailer, the less control you have for steering. Don't make my mistake!
26. ATV Cover
I don't know why spiders and rodents like to make homes on my ATV when I put it up for storage, but they do.
An ATV cover can help stop these little boogers and keep your ATV looking great when it's time to ride again.
If you keep your ATV outside all the time, then you for sure need a cover on it. The Sun will destroy your plastics and seat over time. Not only that, but the rainwater will rust things and corrode electrical connections that are not protected.
You can get a universal ATV cover here*.
27. LED Lights
The lights on the ATV are never bright enough for me. When I ride, I like having as much of the trail lit up as possible.
You can get LEDs like this here* and really light up what's in front of you. It's crazy how far LED tech has come! It's at a point that this is one of the first things I buy for a new ATV.
28. GPS
While most phones these days have GPS on them, they don't hold a candle to a dedicated GPS unit.
For one thing, a dedicated GPS unit doesn't need a phone signal to work, unlike your phone. When you're knee-deep in the woods or the dunes, you'll need something that works with no cellular signal.
29. ATV Hand Guard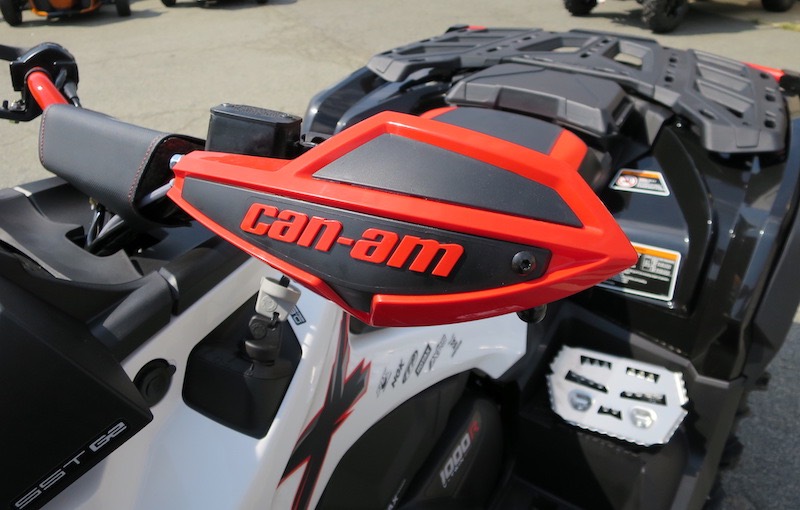 If you do any trail riding, it's only natural for branches to graze your knuckles.
This is where a handguard comes in handy!
30. Portable Gas Can
With the proper attachment, you can get a portable gas can to carry on your ATV.
If you do any long rides having extra gas is a must.
31. ATV Cleaning Supplies
Only a madman would not clean his ATV every so often.
They make ATV cleaner* that is made to clean off all the mud, and other crap you're ATV goes through.
I also like using SC-1 Spray* after I'm done cleaning my ATV to make it look showroom ready.
32. LED Lighted Whip
LEDs have got to be the coolest ATV accessories. The lighted whip takes it to a new level of cool.
This is a must-have for any night time rides, especially in the sand dunes. These let other riders know where you are from a distance due to how high they go.
More Must Have ATV Accessories To Come
Over time I'll keep adding to this list of must-have ATV accessories and keep it fresh. There is a lot of cool stuff for your 4-wheeler or quad and I want to show them off as the market changes.